Visual Artist/ Photographer/ Sound Composer/ DJKG:



Patarita Tassanarapan is an interdisciplinary artist from Bangkok.
She is interested in the spectrum of contemporary art
within particular contexts that integrates social engagement.
After graduating from a bachelor's degree in landscape architecture,
she has extended her profession to work in the other artistic fields,
including installation art, photography, video art, and sound art.
Currently, she is studying in MFA Spatial Performance & Design at the Architectural Association, London.
Patarita specialises in a sound composition that contributes to the atmospheric ambience.
Her works are aimed to create the engagement between humans and the surrounding environment.
Curriculum Vitae

Education
2019-2021
MFA Spatial Performance & Design
AAIS, Architectural Association School of Architecture
London, UK

2012-2017
BLA Landscape Architecture
Faculty of Architecture, Chulalongkorn University
Bangkok, Thailand

2009-2012
Triamudom Suksa School.
Bangkok, Thailand
Scholarship
2016
Thesis Scholarship for Creative Well-being Programme
By Built Environment for Health Research Unit (BE4H)
Bangkok, Thailand
Professional Experiences
2019 JAN - JUL
Designer & Art Director
Cloud-floor Company Limited
Bangkok, Thailand

2017 AUG - 2018 DEC
Landscape Architect
Duangrit Bunnag Architect Limited
Bangkok, Thailand

2016 MAY-JUL
Intern Landscape Architect
Takano Landscape and Planning
Obihiro, Hokkaido, Japan

2013 MAY-JUN
Intern Landscape Architect
PLandscape
Bangkok, Thailand
Workshops
2019 JUN 15
Cymatics Graphic Design Workshop by Jesse Osbourne-Lanthier
Hosted by Shape Shifter, Sathon Chainsaw
Bangkok, Thailand

2018 DEC 10-21
AA Visiting School Bangkok – Curartistry: Trees in Bangkok
Bangkok, Thailand

2018 NOV 10-11
Bangkok Design Week 2019 – Launchpad Programme
Hosted by TCDC, Creative Economy Agency
Bangkok, Thailand
2018 OCT 20
Mimeograph/Risograph Workshop by Poop Press and RRD
Hosted by Poop Press
Bangkok, Thailand

2018 APR 1-4
Instant City Tokyo Workshop with Raumlaborberlin, Atelier Bow-wow
Hosted by Goethe-Institut Tokyo
Tokyo, Japan
2017 NOV 17-19
Urban Media Art Bangkok Workshop in Curatorial Theme "Emotional Transitions" by Urban Media Art Academy Berlin
Hosted by Goethe-Institut Thailand
Bangkok, Thailand




Award

2018 NOV 12
Noodlescape, Winning Project of Pop-Up Gardens Competition
By Christchurch City Council
Christchurch, New Zealand



Exhibitions

2019 JAN 26 - 2019 FEB 3
Ekanake (2019), Bangkok Design Week 2019
Cat Building Pier, Bangkok, Thailand

2018 DEC - 2019 APR
Noodlescape (2018), Pop-Up Gardens
Cathedral Square, Christchurch, New Zealand

2018 DEC 21
Wound (2018), AA Visiting School Bangkok 2018 Project Exhibition
Montien Mall, Bangkok, Thailand

2018 JAN 30
Mood Swing Project (2016), Urban Media Art Kitchen
Public Art Lab, Berlin, Germany

2017 NOV 19 - DEC 3
Interactive Potluck (2017) , Freeform Festival 2017
ACMEN Ekamai Complex, Bangkok, Thailand
Mood Swing Project
2016
Data Mapping
BLA Chulalongkorn University


This project is an experiment of data mapping and modeling. The first model was analyzed from personal curiosity about existence. Then that analysis methodology should be adapted to analyze the context of landscape areas.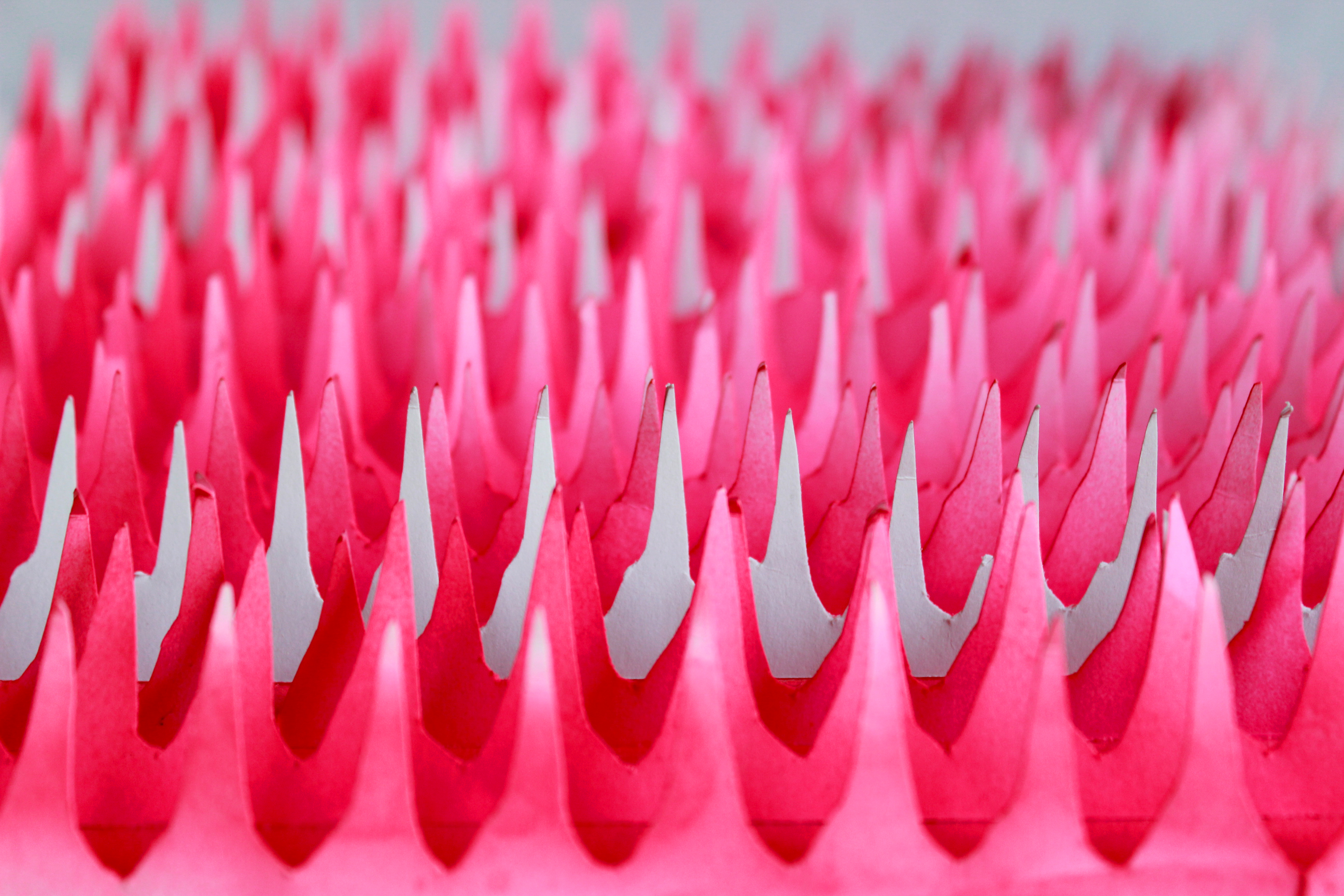 Mood of Pi From the willing to find out about human existence and make it into a model. Heart rate could be a good indicator to measure. The framework in measurement should be specified by considering a period of watching movie, for example, Life of Pi. Each scenes was measured the experimenter's heart rate and captured the scenery to generate into images that showed mood and tone. After that, the images was overlaid with heart rate scale and animated sequently.







Mood of Quarry The former analysis methodology is to collect data sequentially and overlay with chromatic data. This experiment had basis from a quarry landscape site. The model was decided to show a cut section by collecting elevation data and images of 10,000 sq.m. areas along the section line. Afterwards, all the data was overlaid in the same method but turned into a different result.







Mood of Public Housing
From the quarry site, it was moved to a public housing area in Klongchan, Bangkok. This site is characteristic in having many accessible routes to the residences inside. So the data was collected by recording video along the way through the street and captured the scenery in every 5 seconds. Those raw images were generated to show the mood of the ambience. Surprisingly, it could also define an open space along the way through when rearranged it in sequence. Finally, it came out as an unexpected result as a continuity of space on the site.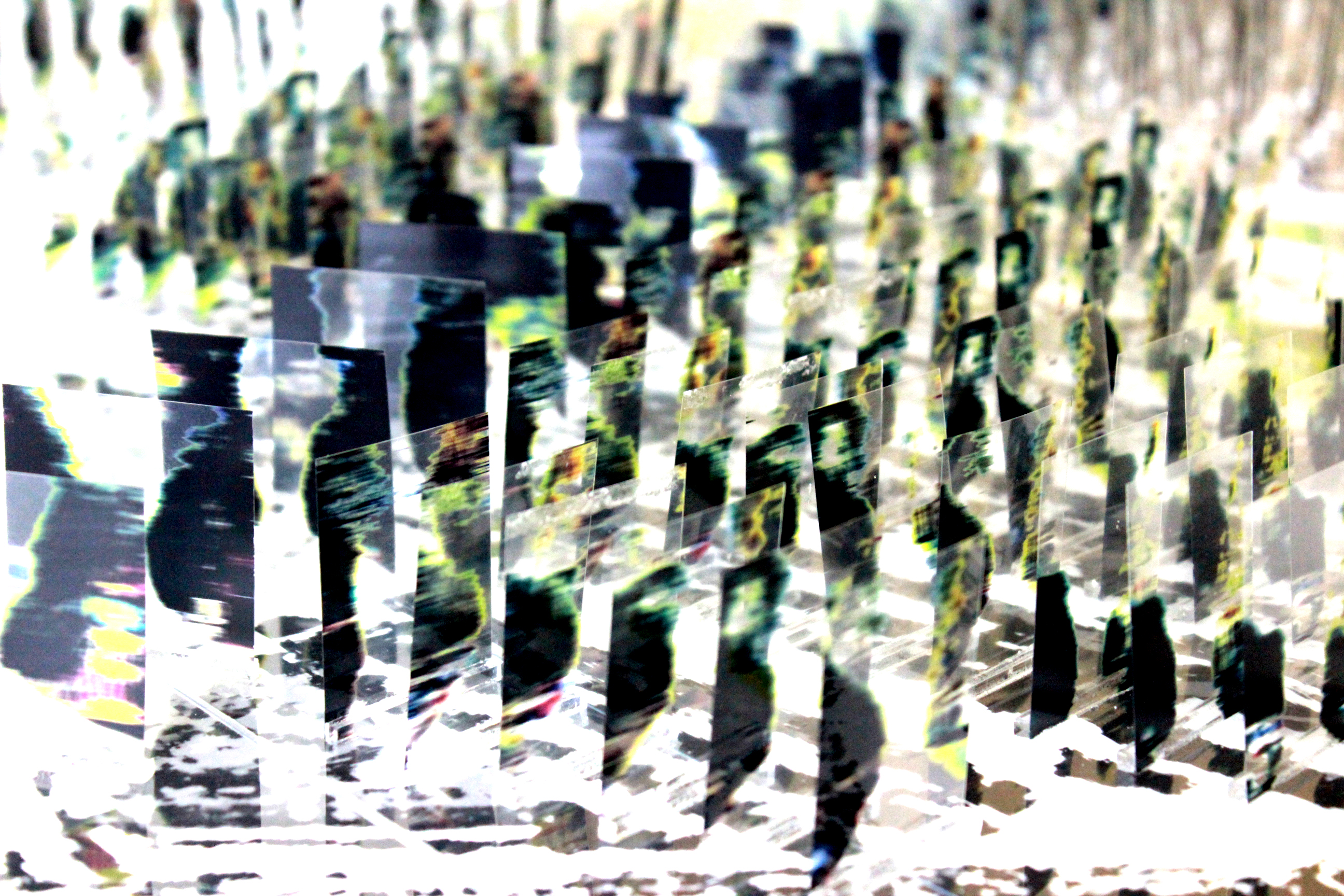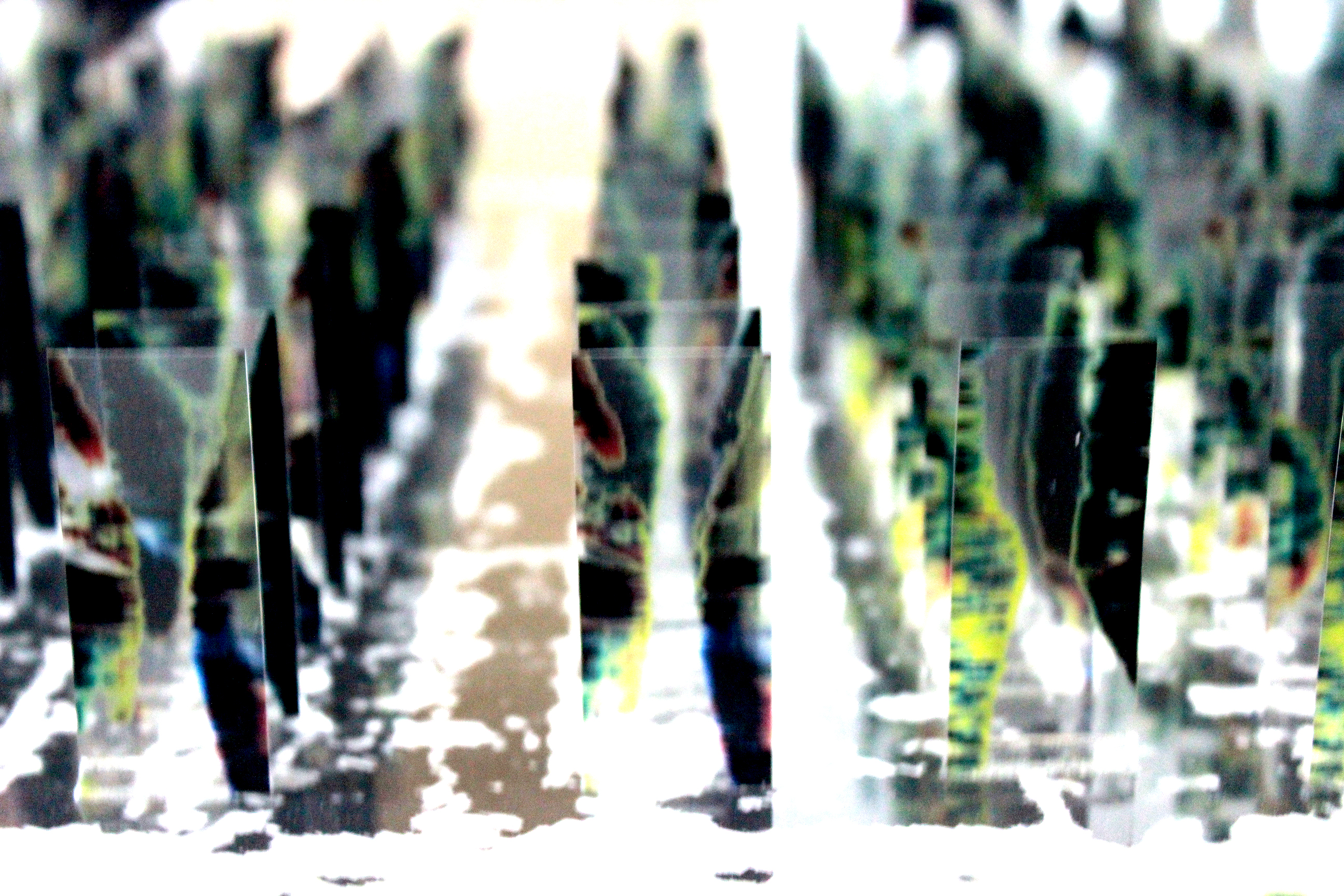 Sense
2018
Print
Mimeograph/Risograph Workshop
Poop Press, RRD
Bangkok, Thailand
Bangkok independent publisher,
Poop Press
, founded by Lee Anantawat collaborated with a Mexican group of artists,
RRD
, hosted Mimeograph/Risograph Workshop at Poop Press studio. Both tools were primarily invented for political, activism usage. Mimeograph is portable and absolutely analog, whilst risograph is a machine great for producing mass of copies.
Mimeograph
works with stencil paper which is rarly found in the store at present. The process is as similar as screen printing. The ink can be used in single color or mixed color in a mirror tray. It takes a while to let it dry.
Risograph
is a brand of digital duplicating machine manufactured for a high volume of copies. It can use merely one tank of ink at a time. Thus, if you need more than one color, you have to print in layers. The graphic might be shown overlapping but pleasing.
Mimeograph

1: A stencil paper which you have to make holes along your illustration by special tools. 2: A copy paper below the stencil paper to see how the line looks like.


Mimeographed prints
Risograph
Original drawing.

Risographed prints

Combining technics: mimeograph on risograph

Collaborated with risograph print of other participant (Lisa)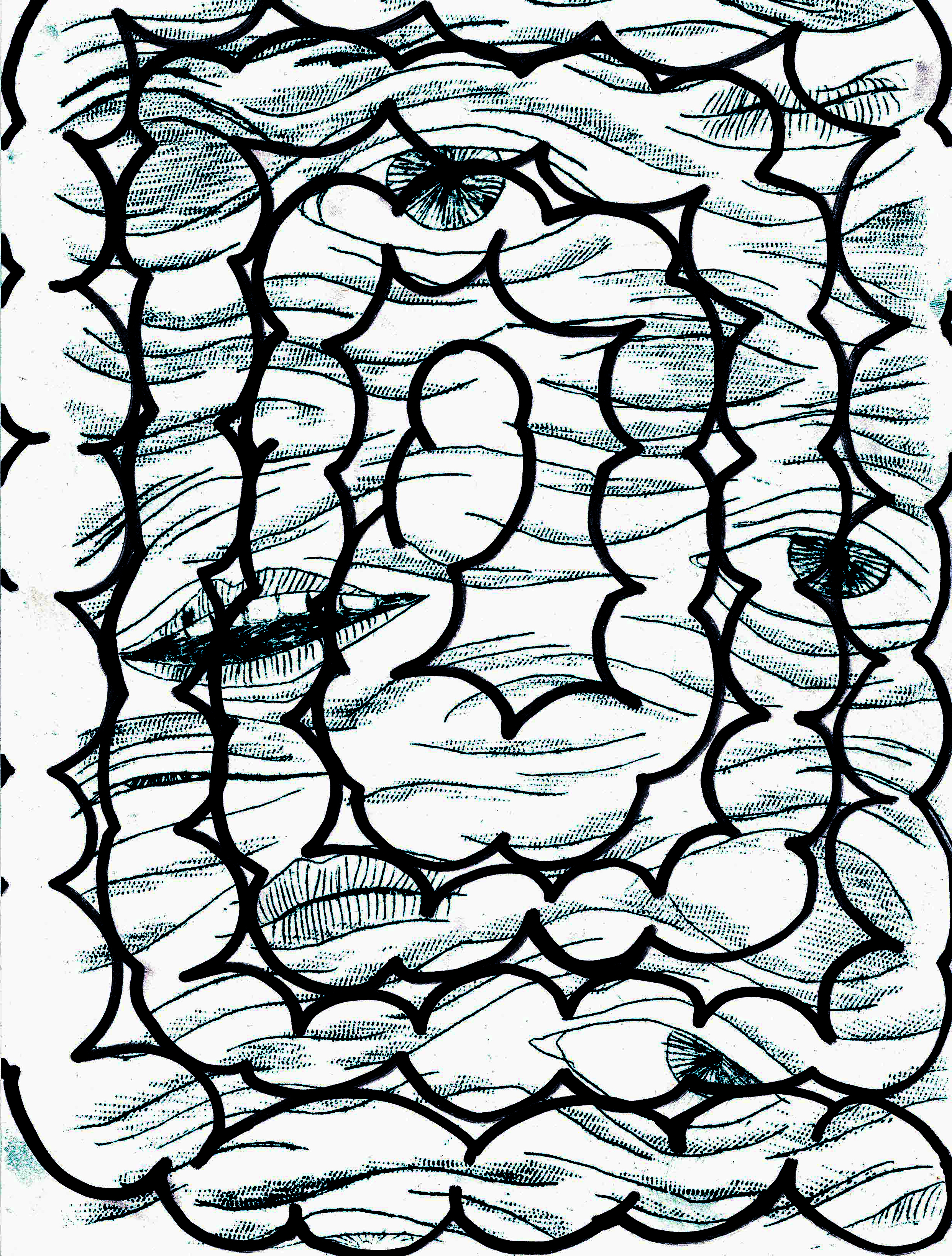 Mimeograph print on hand drawing.